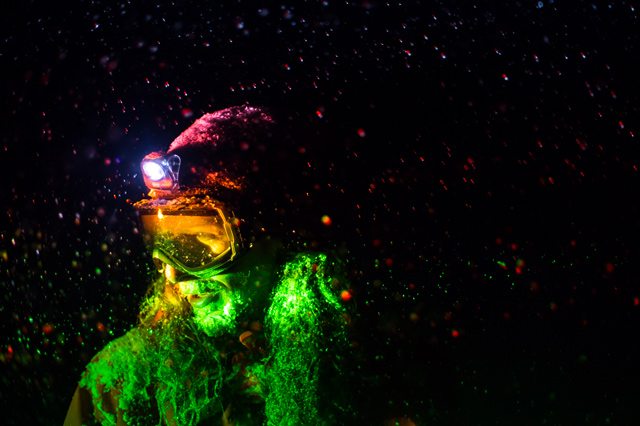 Sage Cattabriga-Alosa's latest project is an artistic collaboration with photographer Adam Clark. With the help of sponsor The North Face, they were able to film what Powder Magazine has turned into The Sage Experience, along with footage for Teton Gravity Research's latest film: Almost Ablaze. For Sage it was a natural progression to show skiing as an art form, as his main media outlet has been the art of film skiing. From skiing as an art form, to women's roles in the ski industry, I had a chance to talk with Sage and get to know some of his thoughts and ask about his future plans.
 "You are doing whatever it is, your particular vision and it is much more of an expression of who you are. It is a very personal artistic representation of visual art and light defiantly as a more natural progression," Cattabriga-Alosa.
The project was an idea that started over 5 years ago and then the project actually began 2 years ago with Adam Clark to see if it could work. "Once we knew it could go a lot further we kept in the DL and got The North Face involved to take it larger scale and to the next level. For it to come to fruition was a huge goal and sense of accomplishment and partly being able to share more of what I'm about with a more personal side getting to share the more insight of who I am. " Cattabriga-Alosa.
[youtube https://www.youtube.com/watch?v=LxwNb8xlcV4&w=560&h=315]
With the recent release of Pretty Faces I asked Sage what his views were on women's specific ski movies being developed."I think its great for sure there are a lots of the movie companies run by guys and most the skiers are guys in the movies. When I first started filming with TGR, there was only one woman, its brings something good to movie, the persona and reaching more inspiration for women," Cattabriga-Alosa. When it comes to women in the ski industry Sage has spent a lot of time filming and working with Angel Collinson, which is why she is his favorite female skier. Angel opens this year's Teton Gravity Research movie, Almost Ablaze. This along with women taking on all female movies, shows the skill and passion of women who are doing their own projects and getting people to get out to follow their dreams whether a guy or girl.
Looking to the future Sage would love to see more visions of bigger night skiing projects. But for now he is going to continue going to film festivals where he is continuously inspired by what others are putting out on the market too."I just saw the Powder thing yesterday (referring to The Sage Experience) afternoon for the first time and it was really amazing and they really nailed it to share what is in that experience," Cattabriga-Alosa.
For Sage the perfect day skiing has lots of snow and a couple of close friends and a good location with out that many people there maybe Alta storm riding.